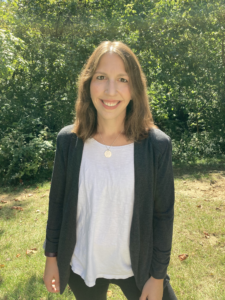 Karen Martin was born and raised in Cincinnati, OH. She was active in Jewish life in her community and was a madricha, a teaching assistant, at Isaac. M. Wise Temple.
She attended Kenyon College and earned a degree in English, and earned distinction in the Integrated Program in Humane Studies, receiving the Richard F. Hettlinger Award for her thesis in that concentration.
After a year working as the Engagement Associate at Miami University Hillel, she continued her studies at the University of Chicago and earned a MA in the Humanities in 2010, concentrating on the intersection of religion and national identity in modern literature. During and after her studies, Karen continued working in Chicago's Jewish community in myriad roles, including as Youth Group Director at KAM Isaiah Israel, as a religious school teacher and rabbinic assistant at Anshe Emet Synagogue, and as Assistant Director at Metro Chicago Hillel. She enrolled in the Spertus Institute for Jewish Learning & Leadership and earned a MA in Jewish Professional Studies in 2014. Karen has worked at Federations, Hillels, and synagogues, most recently as Executive Director of Rockdale Temple in Cincinnati, OH. In 2020, she enrolled at Hebrew Union College – Jewish Institute of Religion and is a Wexner Graduate Fellow and JDC Weitzman Fellow. She hopes to use the skills she learns through these fellowships to strengthen emerging Jewish communities. She received The Herman E. Snyder Alumni Prize for Academic Excellence in her first year of studies at HUC-JIR.
During the summer between her first and second year, Karen served as a TJF Fellow at the Jewish Fertility Foundation where she learned a tremendous amount about infertility in the Jewish community and helped develop tools to facilitate the organizations' national expansion. She is thrilled to serve as Rabbinic Intern at Congregation Beth Adam, and serves a pulpit in Bryan, TX.
When not engaged in her studies, Karen loves playing with her children, Samuel and Joel, and spending time with her husband, Stewart. She is also an avid reader, runner, and very amateur guitar player.